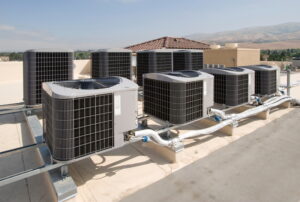 With temperatures never truly "cooling down" for too long, it's always a good idea to make sure that your business or commercial property has a fully functional air conditioner in place. Perhaps your commercial air conditioner has been working just fine, so you don't see the need to schedule any service for it right now.
But the truth is, just because it's not showing any obvious signs of disrepair, this is the time of year you should schedule one very important commercial service—air conditioning maintenance. It's never too late to have this service done, but having it completed ASAP will benefit you in more ways than one. Read on to learn why!
Scheduling Professional Commercial AC Maintenance
Professional maintenance is something that every air conditioner needs to have done on a routine basis—once a year to be exact. This is true for residential and commercial systems alike, but even more important for the latter, given how massive and complex they are.
If your commercial space is using a heat pump system, then you should have maintenance done on this system twice a year.
But why is routine annual maintenance so important? Well, because:
Summer Doesn't Take a Break: Let's face it, we're not exactly known for chilly weather, any time of the year. Our summer temperatures soar, and the humidity makes it feel even more stifling. But temperatures are really high year-round in Navarre and the surrounding areas. This means you always need your commercial air conditioner to be ready to work, and professional maintenance ensures this is the case.
Skipping AC Maintenance Leads to Higher Energy Costs: If you run a business or manage a commercial property, you have enough to worry about without the rising costs of utilities. Still, this can absolutely become a concern if you let it become one. In general, each year that a commercial air conditioner goes without maintenance service, it loses about 5% of its efficiency. Maintenance, however, helps that system retain up to 95% of its original efficiency.
Avoid Sudden HVAC Breakdowns: The main reason we recommend routine professional commercial AC maintenance is to prevent the unit from suddenly shutting down on you, your employees, tenants, and/or customers on a blistering hot day. You know as well as we do that there are plenty of those coming, and you want your commercial cooling system to be ready to get through all of it.
Prevent Emergency Repairs: Did you know that annual maintenance can help you avoid 85% of the repair needs your commercial AC system may ever need in its lifespan? This is because during maintenance, we thoroughly inspect the system. We check for parts that are wearing down and need adjustment or small repairs. If you have these managed in a timely fashion, then they won't grow into bigger (and costlier) emergencies. This gives you peace of mind too, that you won't suffer a business interruption due to a sudden AC breakdown.
Contact Kool Breeze of Northwest Florida Inc. for professional commercial air conditioning in Navarre, FL.