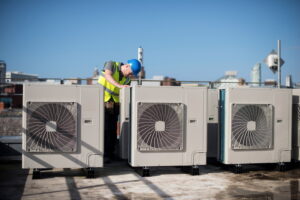 If we had to guess the very last thing you need right now as a commercial property manager or a business owner, we'd say it's a "broken down air conditioner." While this is a major inconvenience in a home, it can be a full-on disaster in a commercial space, leading to the loss of business and worker's comp claims if you have employees in the space.
You have enough to think about when you are running a business to worry about your air conditioner. This is why commercial HVAC maintenance is so vital–it helps you avoid 85% of the urgent repairs the system may ever need in its lifetime.
If you haven't scheduled commercial AC maintenance in a year, it's not too late! The only time it's too late is if the system has broken down beyond repair and you actually need a replacement.
In the meantime, regardless of how diligent you are about maintenance, it's a good idea that you and other building occupants know the designs of a commercial air conditioner in distress. Read on as we uncover what some of them are.