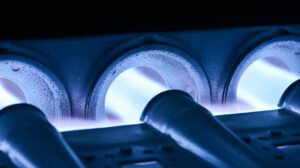 The short answer to this question is, "yes!"
But we don't expect you to take that at face value. After all, it's such a small component, how important could it be? Well, if we're talking about the heat exchanger in your gas-powered furnace, pretty darn important!
Look, we're not here to panic you or scare you into thinking that gas-powered furnaces are inherently dangerous—they're not. But when you ignore a problem as serious as this, they certainly can be. Just like any other appliance that creates combustion gasses, a furnace has the potential to create health hazards if the system isn't properly maintained. Treat your gas furnace well and you'll have little to worry about.
Cracked heat exchangers are a problem usually isolated to aging furnaces—that is, any furnace over 15 years old. For this reason, we typically recommend system replacement once your furnace has reached this age. Read on as we uncover why you don't want a cracked heat exchanger.