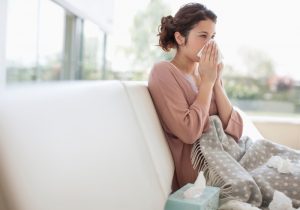 If you're reading this blog post in the spring of 2020, then you know that health concerns are not anything we take lightly. Given the severity of our current situation, one thing that is easy to forget about right now is taking care of our general health. If you're an allergy sufferer, then this post is for you.
Allergies seem minor in the grand scheme of things, right? But the truth is, if you're not taking care of yourself overall, you can lower your own immunity, and feel pretty miserable to boot. Allergies may not seem threatening, but they will certainly hurt your quality of life. So, what can you do about it?
Invest in Whole-House Air Filtration
There's a pretty common misconception among homeowners that the air filter within their HVAC system is in place to protect their home's indoor air quality. A clean and unobstructed air filter certainly will not hurt your indoor air quality of course, but its actual purpose is to protect the interior components of your cooling system (and your forced-air heater) from dust, dirt, and other debris that can hurt system efficacy and efficiency.
Whole-house air filtration, however, involves the use of a much more complex filter, which traps many contaminants and common allergens, effectively removing them from your indoor air.
Types of Whole-House Air Filters
There are a couple different types of whole-house air filtration systems. You may find that you need one over the other, or some combination of them. Actually, most homeowners need some combination of indoor air quality products in general to boost comfort and health. There are a variety of options on the market! This includes:
Electronic Air Cleaners: These systems remove microscopic impurities from your air that an air filtration system might let escape. This includes particles like dust, smoke, smog, pet dander, and even mold spores. These contaminants may seem relatively harmless, but they can make even a healthy person sick. Electronic air cleaners work by "charging" the particles and drawing them onto a metal plate where they can be cleaned off later.
UV Air Purifiers: In a humid climate such as ours, there is one unhealthy contaminant that wreaks havoc on indoor air quality like no other—mold. Excessive moisture causes mold and mildew to develop, and the prime location for this growth is none other than your air ducts. A UV air purifier, also referred to as a UV germicidal light, can be installed directly into your ductwork, where it effectively kills the microorganisms before they have a chance to even enter your indoor air.
More Tips for Preventing Allergy Symptoms Indoors
In addition to equipping your home with the right indoor air quality products and services, you can take steps to mitigate allergy suffering indoors. Here are just a few tips on how to do so:
Leave your shoes near the entryway before walking on the carpet in your home.
Remove your outerwear before entering your home.
Change your clothes when you come inside, especially after outdoor activities.
Follow a chore chart for dusting and sweeping your living space.
For reliable indoor air quality solutions, contact Kool Breeze of Northwest Florida, Inc. today!