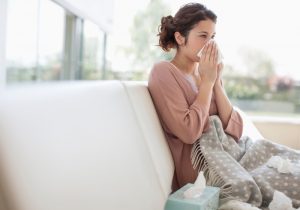 "What?" you may be wondering, "you're an HVAC company, why are you talking to me about tree pollen?"
Here's a little fact you may not be aware of—the indoor air quality within your home can actually be worse than that of outdoors. This is because homes and buildings today are built very tightly, sealing off any areas that can allow conditioned air to escape. This is great news for air conditioning efficiency! Unfortunately though, since air can't escape your home, neither can allergens.
This is the time of year known as "tree pollen season" here in the Navarre area, and every time you open your door, you're inviting this allergen inside. So, what can you do to combat it?
Arm Yourself with Whole-House Air Filtration
There's a common misconception among homeowners that the air filter within their HVAC system is there to protect their indoor air quality. A clean air filter certainly won't hurt your indoor air quality, but its intended purpose is actually to protect the inside components of your air conditioner from dust, dirt, and other debris that can decrease the system's effectiveness.
A whole-house air filtration system, however, is a more complex indoor air quality product that traps contaminants—like tree pollen—effectively removing them from your indoor air.
Are There Other Air Quality System Options?
Yes! You may find that you need more than an air filtration system to truly combat the allergens in your home this season. Most homeowners need some combination of indoor air quality products to truly make their home comfortable and healthy. Fortunately, there are many options out there:
Electronic Air Cleaners: These systems remove microscopic impurities from your air that an air filtration system may let escape. This includes things like dust, smoke, smog, pet dander, and even mold spores. These particulates may seem harmless, but they can make even the healthiest person ill. An electronic air cleaner "charges" these particles and draws them onto a metal plate where they can be cleaned off later.
UV Air Purifiers: In a place as humid as Florida, there's one unhealthy contaminant, in particular, you should be aware of—mold and mildew. Excessive moisture causes this contaminant to develop, and the prime location for it? Your ductwork. A UV air purifier, also called a UV germicidal light, can be installed directly into your air ducts, where it kills the microorganisms before they even have a chance to enter your indoor air.
More Indoor Air Quality Tips for the Allergy Season
Getting the right indoor air quality products and services in place is certainly an important part of keeping your family healthy this allergy season. But there is more you can do to take control over what allergens are allowed to enter your home in the first place. For instance, you can request that your household members and guests:
Leave shoes near your entryway before walking on the carpet.
Remove outerwear before stepping inside the home.
Change clothes when you come inside (particularly after outdoor activities).
Follow a chore chart for dusting and sweeping in the home.
For more great indoor air quality tips and to learn about our product offerings, contact Kool Breeze of Northwest Florida, Inc. today!