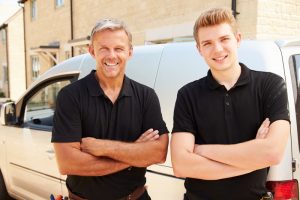 While other parts of the country are scheduling heating maintenance and starting to shut down their air conditioners for the season, we're still using our cooling systems on a regular basis. That said, this is commonly the time of year that air conditioners begin to experience problems—the reason for this is because it's been going since last spring.
If you have an older system or one that's skipped maintenance this year, it can be even more prone to problems. If you do have an air conditioner problem, though, the last thing you want to do is reach out to just any HVAC professional. We recommend contacting an HVAC technician as soon as possible, but we don't recommend rushing the process. Do your due diligence, and make sure your HVAC technician has the following qualities.
Significant Experience
Some people think it's alright to call in just any handyman that has some experience on electric and mechanical devices to service a heater. However, you really don't want just anyone. Complex cooling and heating equipment is difficult for even a skilled handyman, and with an amateur on the job, you'll probably have to pay more to call in a trained professional later, anyway, to fix the job that the amateur botched.
Aside from that, your safety matters! The only technicians who can ensure home safety with HVAC services are those who have been thoroughly trained and educated. You'll certainly get that with an experienced contractor.
Comprehensive Services
There are some companies out there who are happy to install or replace an air conditioner system or heater. There are others who do repairs, but do not sell these systems.
Without a company that provides both services and sales, you run the risk of having an inadequate HVAC system that you have to call another team to repair, or a system that needs replacement that you need to call another contractor to deal with. It's always a good idea to have a single HVAC contractor you can turn to for whatever you need.
This way, you aren't scrambling around trying to find the service you need, and therefore rushing into a decision that really deserved some more consideration—again, you don't want to invite just anyone to complete service in your home.
24/7 Emergency Services
Just as important as it is to find an HVAC contractor that can handle all of your service needs, so too is it to find a contractor who will be there for you any time, day or night. After all, when you have a heating or cooling emergency, it never happens at a convenient time. If you're stuck without an air conditioner in the middle of a hot Saturday afternoon, you shouldn't have to wait until Monday to get your comfort back—contact our team for reliable 24-hour emergency services!
For quality service on your HVAC in Fort Walton, FL, contact Kool Breeze of Northwest Florida, Inc.