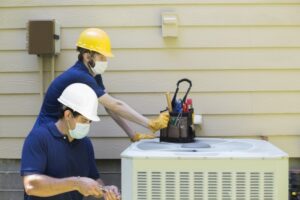 When you're looking forward to warmer months, you don't want to spend time stressing about your air conditioning unit. In humid regions like Florida, summer comes with weather issues like moisture build-up in the ductwork and potential mildew. These don't have to be stressors, let alone considerations, not with the right HVAC service.

Scheduling professional air conditioning maintenance is the best thing you can do for your system heading into the summer. Don't just take our word for it, though. Here are 5 benefits of proactively scheduling air conditioning repair in Niceville, FL.
Fewer Repair Needs
A malfunctioning AC unit is a major disruption, especially in the middle of the hottest season. Worse, by the time a cooling system shuts down, the repair needs are usually more significant. Scheduling maintenance ahead of time is a great way to avoid unexpected breakdowns going into summer.
More importantly, it lets your HVAC contractor assess your unit's repair needs before they become an expensive problem. Smaller repairs don't just cost less, they're a vital part of long-term care.

Confidence In Your System
The peace of mind that comes with regular maintenance is a gift you can give the entire household. Even if you don't use your air conditioner much during the rest of the year, it's still going to work most in summer. Every time you turn it on, you want to know that it's perfectly capable of handling the extra workload.
When you know your air conditioning system won't let you down, you can focus on enjoying its perks when you need them most.
Greater Efficiency
All HVAC systems lose some efficiency at some point, especially closer to the end of their lifespans. That said, there's no need to let your unit age before its time. An AC system that gets professional maintenance annually can maintain 95% of its efficiency rating for most of its lifespan. 
You can keep your AC running at near peak efficiency for years to come, and all it takes is an annual phone call.

Extended Service Life
Regular maintenance also extends the number of years you can enjoy that efficiency, especially in Florida weather. Annual maintenance ensures your system lasts the duration of its manufacturer's estimated service life, and maybe even past it.
Treating your AC to a professional tune-up at least once a year gives it a lifespan of 10-15 years. That number can half without it, so be sure to give your system the care it deserves.

Warranty Protection
Finally, regular maintenance secures your first line of defense against manufacturer faults: the warranty. While most warranty plans will cover you for 10 years, they usually include terms that require you to schedule regular service for your system. It's worth it. Even in the worst-case scenario, calling your HVAC contractor for this can save you money in the long run.
Reach out to Kool Breeze of Northwest Florida, Inc. for professional air conditioning repair in Niceville, FL!