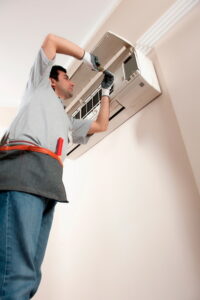 Your ductless mini split is an incredible system. You can count on it all year to keep your home at an ideal temperature, whether the summer heat is over a hundred degrees or winter nighttime temps are dipping into the thirties. 
The way to ensure that your mini split will continue to work as it should is to get regular maintenance, and yes, that does mean twice a year. Here's why.
What Mini Split Maintenance Entails
During maintenance, your technician will clean all components of your mini split. Dust and grime build up throughout the seasons, and it can cause overheating and wear and tear. Scum and algae can develop in your condensate pans and drainage lines, which could lead to mold growth, blocked lines, and water leaks. Maintenance eliminates all that.
Your technician will lubricate the components that move. Without lubrication, moving parts have increased friction, causing strain on the whole system and inefficient use of energy. Lubricated parts glide easily and perform their functions smoothly.
Your technician will inspect and test all parts of the system, making sure the belt isn't fraying, measuring the power draw from the motor, ensuring that the thermostat is properly calibrated, and much more. This prevents future repair needs by spotting and addressing little concerns before they cause major problems.
Ways Maintenance Benefits You
With proper maintenance, energy use can be minimized, without small inefficiencies building up to become major causes of energy waste. Effectiveness can be maximized, so you'll be as comfortable as possible. Repairs can be avoided, and the lifespan of your mini split can be extended.
Another benefit you might reap is keeping your system under warranty. A warranty agreement helps cut your costs if repairs are ever needed but usually specifies that the unit must be properly maintained by a qualified professional.
Why Mini Splits Must Be Maintained Twice a Year
While an air conditioner or a furnace only works for one portion of the year and only needs to be maintained once, your mini split puts in a full year of work. Dust and grime build up all year long. Lubrication is worn away, a little at a time, all year long. Moisture drips into the condensate pan, the motor powers the fan, and the refrigerant flows… all year long. 
You would get maintenance for both your air conditioner and your heating system annually. You should consider your mini split as being both of these systems because it is providing both of these services to your home. Schedule maintenance in both the spring and fall so that, during the seasons of heaviest use, your mini split will be fresh and clean and in tip-top shape. 
Heat pump and ductless AC maintenance in Fort Walton Beach, FL will keep your home at a perfect temperature, your electric bills at a reasonable level, your repair needs rare, and your mini split under warranty.

For professional mini split services, look no further than Kool Breeze of Northwest Florida, Inc. Contact us today!