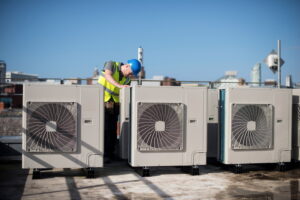 If we had to guess the very last thing you need right now as a commercial property manager or a business owner, we'd say it's a "broken down air conditioner." While this is a major inconvenience in a home, it can be a full-on disaster in a commercial space, leading to the loss of business and worker's comp claims if you have employees in the space.
You have enough to think about when you are running a business to worry about your air conditioner. This is why commercial HVAC maintenance is so vital–it helps you avoid 85% of the urgent repairs the system may ever need in its lifetime.
If you haven't scheduled commercial AC maintenance in a year, it's not too late! The only time it's too late is if the system has broken down beyond repair and you actually need a replacement.
In the meantime, regardless of how diligent you are about maintenance, it's a good idea that you and other building occupants know the designs of a commercial air conditioner in distress. Read on as we uncover what some of them are.
Lukewarm Air
Have you or occupants of your building noticed that there is lukewarm air coming from the vents in your commercial space? This is a pretty obvious sign that something is wrong with your commercial air conditioning system and it deserves attention.
First, check with your building's thermostat(s). Make sure that nothing was missed and that the thermostat is displaying correctly. If the thermostat is not the culprit, it's time to give the pros a call, as you might be dealing with something like a refrigerant leak, breached ductwork, or perhaps reduced airflow due to some other internal problem.
An Increase in Overhead Costs
Do you keep a close eye on your commercial space's overhead cost? Depending on the size of the business your run or the commercial space that you manage, this might not be a concern for you. However, it is something you should check on every now and then.
The reason is because, if your energy bills are much higher than they were the same time the year before, it's a definite sign that something is working inefficiently, and it could very well be your commercial air conditioner.
Strange Odors Coming from the Vents
This is never a sign you should ignore. This is especially true if the smell is acrid. An acrid odor typically means something is smoldering or burning, and it could be the wires of your commercial air conditioning system.
Alternatively, if you detect a musty odor, it can be the sign of mold or mildew development within your ductwork. This is very unhealthy for building occupants and can lead to a number of problems.
If you notice strange odors coming from the vents, it's time to give us a call! Please don't hesitate to reach out to our team for any troubling symptoms.
For professional and reliable service on your commercial air conditioning in Navarre, FL, contact Kool Breeze of Northwest Florida, Inc.