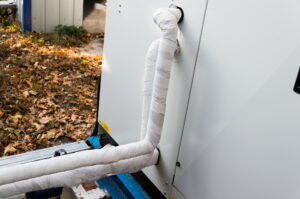 If you've been a customer of ours for a while, then you've heard us talk about maintenance plenty. Routine annual AC maintenance helps your system work as efficiently and as effectively as possible, for as long as possible.
One of the many AC components that we inspect during your maintenance tune-up, due to the problems that can present with it, is the condensate drain line, which can become clogged. Read on as we uncover what the purpose of the condensate drain is, what can happen when it isn't functioning properly due to a clog, and what to do about it.
What Is a Condensate Drain?
Chances are, that at some point, you have left a cold canned or bottled beverage outdoors on a hot summer day. In just a few seconds, you'll notice starting to form on the outside of the container, dripping down quickly to leave a water ring on whatever surface it's on.
So, you probably use coasters, right? Especially if you have wooden tables. Coasters can allow the moisture to get absorbed, or at least a place for it to evaporate from. Well, just like the condensation from your beverage can damage wood furniture, the condensation from the cooling process can damage your air conditioner.
Air conditioning systems produce moisture as they cool the air, through their evaporator coil. Your condensate drain is there to provide a path to remove this moisture and dispose of it in a way that won't cause any damage to your property.
Looking at your air conditioner, you likely see a small pipe, usually made of PVC–this is your condensate drain. It's usually located by the ground or by a drain. If you see water dripping from the line, that's good news! This means that it's doing its job. However, as we've alluded to with the topic of this blog post, the condensate line can get clogged up, usually with dust, dirt, or other debris.
The Problem with a Clogged Condensate Line
The cooling system's drain line includes a trap, much like the U or S-shaped traps you see under the sinks in your home. These traps prevent unwanted air from getting into the closed AC system. This trap regularly has warm, moist air flowing through it, and this is, unfortunately, a good breeding ground for mold and algae. And if this goes unchecked, you could end up with a clogged drain line.
Your drain line can also get clogged up if your air conditioner isn't adequately cleaned on a regular basis as it can accumulate dust and dirt. And then, it backs up moisture into your cooling system, and therefore into and onto your property. The leakage and overflows can lead to not only water damage in your property but mold growth too.
How to Clean Your Condensate Drain Line
The best way to clean your condensate drain line is to call a pro! This is part of the maintenance process, and if you're getting your air conditioner maintained on an annual basis, you're a lot less likely to run into problems like this.
Kool Breeze of Northwest Florida, Inc. is your trusted resource for air conditioning repair in Gulf Breeze, FL. Contact us today.