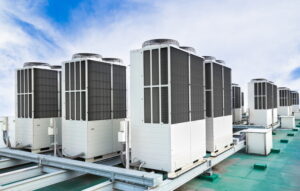 When it comes to supplying effective air conditioning or heating to a commercial space, the most popular option is using a packaged rooftop HVAC unit. You are probably already familiar with these, even if you didn't think you were–you can see them on the top of most commercial buildings.
Rooftop units are popular for a reason. Read on as we go over why most businesses use rooftop air conditioners.
They Are Space-Saving
The primary reason that HVAC units started getting installed on the top of buildings was because there weren't any other spaces available. Early central HVAC systems for commercial spaces were added onto structures that were usually in the middle of crowded downtown areas, meaning there was not space around the building for large HVAC units.
When installed up on the roof, they don't take up valuable real estate, plus they are less prone to suffering from vandalism or damage.
They Save Energy
Modern rooftop AC systems are available in higher efficiency ratings (SEER and HSPF) than other types of commercial air conditioners. They also utilize more ventilation options that are available for other types of systems (such as ductless systems, for example), and can improve indoor air quality.
Now, that's not to say you can't use a commercial ductless system, some smaller businesses or structure add-ons make the perfect space for these modern heat pumps! Be sure to ask our team about these if you're curious.
Rooftop Units Are Easy to Access
You may be thinking, "huh? Since when is a roof easy to access?" Don't worry, that's not quite what we mean–we don't expect you or anyone in your space to access your rooftop. What this means is that our technicians can easily access the equipment without walking through and around your workspace to get to them.
The "packaged" part of these HVAC systems is helpful. You see, conventional split-system air conditioning and heat pumps have components in cabinets, both inside your commercial property and outside of it. But a rooftop packaged unit houses all the components in one unit, so our techs can manage repairs and maintenance all from one spot.
You Don't Hear Much Noise
You usually do not hear the noises that an air conditioner or heating system makes inside your workplace, right? Sure, you might detect the sound of the air whooshing through the vents, but rooftop systems store all their mechanical components far away from the workspace. So, you're not going to hear things like the compressor or the fans.
They Are Modular
If you take a look at the rooftop of the average commercial building, you'll see multiple packages of HVAC units. This is because these systems are designed to be modular, so they can grow as a business does, or as the needs of your business change. This isn't possible with a traditional split-system air conditioner that needs to use an indoor unit too.
Kool Breeze of Northwest Florida, Inc. is your trusted resource for commercial AC in Navarre, FL. Contact us today!