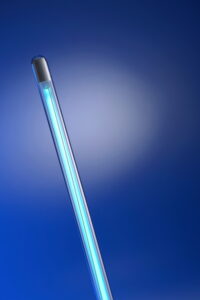 The investment in a UV air purifier is typically a good one. It is very safe to use, too. Though it uses UV lights, this type of air purifier is not dangerous to you or your pets in any way. It is much different than the type of UV that you would expect to cause sunburns and skin cancer.
Rather, UV air purifiers may even help you to improve your health. If you are considering the value of adding a UV air purifier, Fort Walton residents should take a few minutes to learn a bit more about their benefits.
What Are UV Air Purifiers?
UV air purifiers, also known as UV germicidal lights or UV lights, are a type of system that works to remove microscopic pathogens from the air you breathe in. This may include bacteria, viruses, mold spores, and other tiny particles that can get into your airways and cause illness. To do this, the system uses ultraviolet lights, or UV light waves, to target those airborne pathogens and destroy or deactivate them. This makes it impossible for them to cause damage to your health.
What Are the Benefits of UV Air Purifiers?
There are a number of potential benefits of using UV air purifiers. This includes:
Improving the home's indoor air quality. This helps to ensure you are breathing cleaner air.
Prevention of viruses, mold spores, and bacteria from spreading. This may help to keep you healthy or at least reduce the risk of spreading these germs throughout the home.
Reduced energy consumption. UV air purifiers tend to use less energy than larger, traditional air purifiers that have constantly running fans. That helps to keep energy bills lower.
Reduces maintenance tasks. The use of these air purifiers can also help to reduce maintenance tasks in the home, helping to make it easier to dust and keep your home sanitary.
Add value to the home. When you choose the right type of product, the UV air purifier can add value to your home, especially if you plan to sell it soon.
Reduces symptoms for people who are sensitive. If you have family members in your home that have allergies or asthma, removing these particles from the air may help reduce their symptoms. This helps protect their health even more so than it does others.
The main benefit of the UV air purifier is to help reduce the amount of airborne pathogens moving through your home, helping to improve your overall health and reducing the risk of those pathogens from spreading throughout your home. Though these systems do not get rid of mold that is already present, they can help reduce the mold spreading by removing it from the air that circulates through the system.
If you are unsure if these systems are the best choice for you, turn to a technician to learn more about how they work.
Kool Breeze of Northwest Florida, Inc. is your trusted local resource for indoor air quality services. Contact us today!