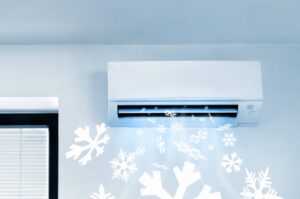 If your home doesn't have ductwork, you may have felt like you were stuck with window AC units forever. And if your home does have ductwork and you've always used a traditional central air conditioning system, you might not know about your other options.
One of the best options is a ductless AC system or ductless heat pump. It works great in older homes that don't have ducts, but it can be the best choice even if you've got ductwork. Why? Ductless systems can cut down dramatically on your energy use, and thus your electric bill. They do this in three ways. Here's the scoop. 
1: Lack of Ducts
Ductwork can deteriorate over time. Even new ductwork can develop problems due to anything from rodent infestation to accidental damage during home projects. Tears, cracks, and holes in ductwork can lead to the loss of up to 30% of the conditioned air that your air conditioner provides.
But ductwork that doesn't have holes still has a lot of surface area, and that leads to the conditioned air inside the ducts being warmed by the air around the ducts. The air conditioner needs to work more just to make up for that, using more energy. With a ductless system, none of that loss will happen. 
2: Zone Control
A traditional central air conditioner is controlled by one central thermostat. If you are at home alone and only need one part of your home to stay cool, your central AC system cools the entire home to that temperature.
Ductless systems allow different zones of your home to be set to different temperatures. The refrigerant coming in from your outdoor condenser unit is split and directed to separate air handlers in various parts of your home, each of which has its own thermostat. (This is why a ductless system is sometimes called a mini split). When you can adjust the temperature only where you need to, you won't waste energy cooling your entire home just to keep one room at your desired temperature.
3: Motor Efficiency
Ductless systems and heat pumps use smaller motors than traditional central AC systems do. They get the job done efficiently, using less energy. This has the added bonus of often being quieter than a central air conditioner.
The Heat Pump Advantage
Ductless systems can be used simply for air conditioning. But with a heat pump, you can reverse the flow of the refrigerant through the system to bring warmth into your home during the winter. This works effectively even at surprisingly low temperatures!
If you are considering going ductless, think about whether you might want to update your heating system as well. Instead of buying a new heater and a new air conditioner, a heat pump might be the perfect solution to all your home comfort needs. 
We'd love to have a conversation with you if you'd like to know more about your ductless options, like our favorite Mitsubishi mini split in Fort Walton Beach, FL. 
For professional ductless mini split installation, look no further than Kool Breeze of Northwest Florida, Inc. Contact us today!