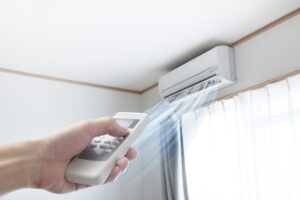 Most homes in America contain both a heating system and an air conditioner. People need to be able to raise the temperature during cold weather and lower the temperature during hot weather, and it may seem that two systems are necessary to achieve this.
However, there is one system that can do it all! So if you have been thinking that you might need to replace one or the other, consider the possibility that a ductless system might be the best investment you can make.

There are many great options for heating and cooling your home, and it can be challenging to determine which is the right one for you. It's important to discuss the details of your home and your needs with a professional before making a decision. We're happy to go over all the possibilities for ductless AC in Gulf Breeze, FL with you and make sure you have all the information to make the best choice for your home.

A ductless system, sometimes called a mini-split, has a single outdoor condenser unit. Similar to the way an air conditioner removes heat from your home and releases it outside, the ductless system moves heat to be released where you want it. During hot weather, cool air is released from air handlers installed throughout your home. When the weather is cold, you can simply switch the system into heating mode. Now, the hot air is released indoors and the cold air is released outside.

Installation is Quick and Convenient
When ductwork has to be installed in a home, it can be laborious and slow. The layout of your home can pose challenges and lead to extra expense. Some homes don't have the space for a system of ductwork. In contrast, a ductless system does not require as much work or as much modification of your home. It may be able to be installed in as little as a single day!

It Can Save You Money
Keeping the labor to a minimum during installation means keeping the cost of installation down, too. In addition, having a single system to maintain and repair means fewer visits from technicians, fewer ways things can go wrong, and fewer parts that could require replacing. You are also likely to find that your energy costs go down.

It Will Save Energy
Ductless systems are small and don't require as much energy to run as many other options do. The fact that it's so easy to control the system and keep the temperature in each part of the house exactly as you need it means that you won't waste energy overheating or overcooling areas in an effort to change the temperature of the house overall. And one of the main causes of wasted energy in heating or cooling systems is leaks in the ductwork. With no ducts, this wastage can be entirely eliminated.

For professional and reliable ductless system installation, look no further than Kool Breeze of Northwest Florida, Inc. Contact us today!