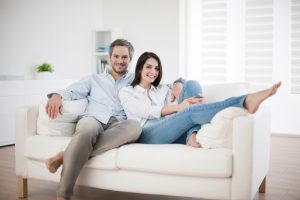 Perhaps the greatest benefit of choosing a Pensacola, FL heat pump installation as your next home comfort investment is that these systems function as both heating and cooling systems. This doesn't mean that a furnace and a central AC are packaged together—it means that this two-in-one system uses the same components for both air conditioning and heating—and does so very efficiently.
Keep reading to learn more about how this works and how you can benefit from the installation of a new heat pump system.
Understanding the Cooling Process
You're probably fairly familiar with how the cooling process works in an air conditioning system—it involves the use of a fluid called refrigerant to move heat. Rather than creating cooling ("cool" is not an energy), heat can be moved from one place to another, effectively cooling down your living space.
Refrigerant continuously cycles through the inside coil, compressor and outdoor coil, among other AC components. With the right temperature and pressure levels, refrigerant absorbs heat from the air inside of your home and moves it outdoors.
Refrigerant evaporates—turns into a gas—indoors as warm air blows over the indoor coil, and it absorbs heat from the air. Then as the refrigerant condenses—turns to liquid—it releases the heat outside, cooling down the coil to begin the cooling process.
Great, So How Does a Heat Pump Heat My Home?
You may be wondering how this refrigeration process actually works to warm your home in the cooler winter months. While a furnace uses combustion, the burning of fuel, or electric resistance to generate heat, a heat pump uses the same refrigerant process it uses for cooling—but in reverse!
A component called the reversing valve enables refrigerant to flow in the opposite direction. This way, refrigerant absorbs heat from the air around the outside unit of your home, depositing heat inside of the home and blowing it through your ductwork.
So Is a Heat Pump Efficient?
Yes! Heat pumps use electricity, which is a costlier fuel source than gas, however, since they move heat from place to place instead of generating heat, they actually require far less energy than heat-producing systems, equating to lower energy costs for you.
Plus, when you use your heat pump for cooling—which we do a lot around here—you can expect efficiency ratings to compare to newer, higher efficiency central air condition systems. Discover even better efficiency with an ENERGY STAR rated heat pump.
Can I Get a Heat Pump Without Ducts?
Yes, that is precisely what a ductless system is. Also called ductless mini-split systems, they can be set up in homes without any ventilation system at all.
Instead, air handlers are mounted high up on the wall, and connected to an outdoor unit through refrigerant lines and a small hole in the wall. There can be up to 4 of these handlers attached to a single outdoor unit.
When you're ready to upgrade to a new heat pump or replace your aging system, simply contact Kool Breeze of Northwest Florida, Inc.