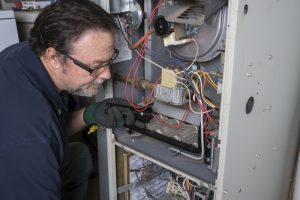 True, we don't have to worry about frigid temperatures in the fall and winter like other parts of the country do. However this doesn't mean you should just neglect your heating in Navarre, FL. Your heating system deserves attention too, even if it's only going to be operating for a couple months or so. Actually, maintenance may be even more important for our area, since our heating systems aren't something we pay a lot of attention to, and therefore could miss the signs of a repair need.
And repair needs are one of the top reasons you need this service. Maintenance helps our technicians spot small issues before they become bigger ones. Keep reading for more detail on this, as well as other benefits of heating maintenance.
The Advantages of Routine Heating Maintenance
First off, we can't stress enough the importance of the "routine" part of this sentence. Heating maintenance should be scheduled once a year, ideally before you're going to be using your heater for an extended period of time. This will ensure the best return on your investment. Routine heating system maintenance affords you:
A Safer Heater: One of the primary jobs that our HVAC technicians do during heating maintenance is check to see if the system is running as safely as it can be, and doesn't have any pressing repair needs. This is particularly important for natural gas-powered systems, such as gas furnaces. These types of heaters are not inherently dangerous, but without proper care they can become so.
Better System Efficiency: Any heating system, no matter the type, will start losing its energy efficiency if you continuously skip maintenance. The drop can be pretty steep within just a few years, leading to a system drain of 25% of its power or more. Maintenance helps keep your heater at peak performance for the majority of its service life.
Extended Service Life: Speaking of that service life, replacing a heating system years before you should have to is expensive, and a hassle! Chances are, you'd like to receive the most years possible from your heater or heat pump system, right? If your heater isn't regularly maintained, though, it will likely fail years earlier.
Fewer Repair Needs: It's estimated that approximately 85% of the repairs the average heater needs throughout its lifetime can actually be prevented thanks to routine maintenance. This means not only do you get to save on the hassle of emergency repairs, but the cost of it as well.
Enroll in Our Maintenance Program
Keeping your heating equipment maintained improves efficiency, extends equipment life, improves heating capacity, and gives you a peace of mind that you do not have to worry about the functionality of your system or being without a heater when you do need it.
Enroll in our maintenance program today and benefit from everything we mentioned above, in addition to priority service, discounts on parts and repairs, and an extensive 15-point inspection.