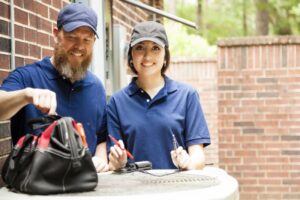 If your HVAC system hasn't been maintained in a while, you might be starting to worry. How often should you be having maintenance done? What exactly does maintenance entail? And will having your HVAC system maintained resolve those little issues that are causing you concern?
Here are the signs that it's time for HVAC maintenance, the things you can do to help maintain your system yourself, and what to expect from the service.
When It's Time for HVAC Maintenance
Once or twice a year: If you have an air conditioner, it should have maintenance every year. If you have a heater, it should have maintenance every year. If you have a heat pump, it should have maintenance twice a year, because it is doing both of those jobs.
When you're concerned about efficiency: If your utility bills are higher than you think they should be, it might be from a lack of HVAC maintenance in Fort Walton Beach, FL. Both heaters and air conditioners lose efficiency gradually as they operate. Dusty buildup and lack of lubrication make the system work harder, and maintenance can restore that efficiency.
When you're concerned about performance: If you feel like you're just not quite getting the heating or cooling power you're accustomed to, maintenance could help improve the overall performance of your HVAC system.
When It's Time for HVAC Repair
If you have significant concerns about your HVAC system, such as damage to your ductwork, ominous noises, hard-starting or short cycling, you need repair, not just maintenance. Make sure to schedule that right away, before you need your air conditioner. You definitely don't want to run an air conditioner that's struggling, because it can worsen problems and even damage other components.
Maintenance You Can Do Yourself
The maintenance your HVAC system needs most frequently is air filter changes. During times when you're using your heater most of the time, its air filter should be changed monthly, and during times when you're using your air conditioner most of the time, its air filter should be changed monthly. During times of infrequent use, filters can be changed every three months.
Maintenance Done by a Professional
It's the perfect time to schedule AC maintenance now before the cooling season begins. Your AC maintenance technician will:
Inspect and clean all parts of your air conditioner
Check the evaporator and condenser coils for any refrigerant leaks
Make sure the condensate pan and drainage tube allow water to flow freely rather than pooling
Lubricate the parts that move like the fan and motor to reduce friction
Test the electrical connections
Make sure your thermostat is giving accurate information (or recalibrate it, if it isn't).
They will also change your air filter, even though you've been doing that yourself. Once all this is done, they will turn the air conditioner on and make sure it's running exactly as it should. After this service, you'll be completely prepared for when the weather gets hot and you need an effective, efficient air conditioner to keep your home comfortable.

For professional help with your HVAC system, look no further than Kool Breeze of Northwest Florida, Inc. Contact us today!