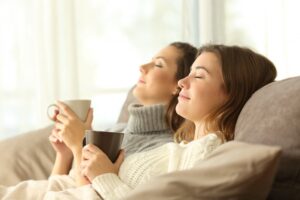 The pandemic has certainly left many homeowners throughout Northwest Florida concerned about their health, especially indoors. That concern shouldn't have to follow you home though! You should always feel comfortable about the air you breathe in your own living space.
The good news, is there are products that can help reduce not only the chance of virus transmission, but also reduce other common types of indoor irritants, such as allergens, common household irritants like cleaning fumes, and VOCs (volatile organic compounds). Read on as we uncover how exactly to do this–with the professional installation and use of an air purifier.
Benefits and Types of Air Purifiers
First, let's start by saying there are several different types of air purifiers and filtration systems, which we'll get to in a moment. Second, it's important to note here that the air filter that comes standard with your central air conditioner and/or heater is not enough to protect or improve your indoor air quality!
In fact, this air filter is in place to protect the HVAC systems themselves from dust, dirt, and other debris that can get inside and damage components.
An air purifier is what you need if you want to reduce the chances of virus transmission, rid your home of indoor allergens, and/or simply breathe in fresher, cleaner air. The benefit of this is not only that it helps keep you and your family healthy, but it also helps your HVAC systems work more efficiently! So, what types of air purifiers are there?
The Whole-House System
When you go online to search for different types of air purifiers or air filtration systems, you'll likely see a lot of results for portable systems. These are great, if they're only intended for a small room in the home.
For comprehensive coverage, you'll want to have a whole-house air purifier installed.
The Ionization Air Purifier
The ionization air purifier is a type of air purifier that captures negatively charged particles in the air, bringing them down to a plate or surface where they can be cleaned off. This type of air purifier is great for things like pet hair and dander, VOCs (volatile organic compounds), smoke, cooking fumes, and more.
This type of air purifier is fantastic for eliminating pollutants that are already in your indoor air!
The UV Air Purifier
The UV air purifier tackles a very specific type of contaminant right at the source–your ductwork–before it even has the chance to enter your indoor air. What contaminant is that? Microorganisms! More specifically, we're talking about mold growth, mildew, bacteria, and viruses.
Using ultraviolet light, this system kills single-celled organisms while being completely safe for the people and pets in your home. This disallows those organisms from ever entering your living space and potentially making you sick.
If you have any questions about what type of air purifier is best for your specific home, if not both, our team is here to help! Please don't hesitate to reach out.
To improve your indoor air quality this winter, contact Kool Breeze of Northwest Florida, Inc. for the installation of an air purifier in Gulf Breeze, FL.