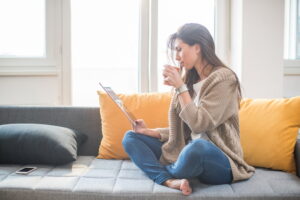 In a recent blog post, we posed the question, "is a UV air purifier worth the investment?" It certainly is the best choice for many homes, but it's not the only choice. And with so many homeowners and families spending time indoors, it only makes sense they want to make that environment as healthy as possible.
Are you one of these people? Then read on as we uncover some of our top tips for improving your indoor air quality and taking steps toward a healthier home.
Change Your Air Filters Regularly
We'll be the first to admit that this tip can be a little misleading. After all, the air filters that come standard with your HVAC installation aren't actually there to protect your indoor air quality, but rather to protect the interior components of the HVAC system itself from debris like dust, dirt, and other particles.
That said, however, not changing your air filters certainly won't help indoor air quality. After all, these air filters are installed at the system intake, where it draws in air from your home. This means it draws in and traps contaminants as well.
When an air filter gets too clogged up, it not only restricts airflow and potentially damages the HVAC system, but it also disallows further particles from being trapped, which means they're just continually cycling through your indoor air.
Don't Try to Air Seal Yourself
You can buy water-resistant caulking just about at any hardware store and even online. It's affordable and highly effective for a lot of different projects. However, when it comes to protecting the indoor air quality of your home, it really requires a professional to get the job done.
Proper air sealing has two goals. First, it prevents your home from losing energy through drafts when you have your air conditioner or heater running. Second, it prevents your home from gaining humidity, contaminants, and allergens.
Attempting air sealing yourself means you could either not use enough material and have wasted time and money, or you can actually do too much and unintentionally restrict airflow in your home, contributing to indoor air problems instead of resolving them.
Invest in the Right Indoor Air Quality Products
The right type of air purifier or whole-home air filtration system (not to be confused with the standard HVAC air filter) will help your family breathe easier and have a better quality of life indoors.
We've talked about the UV air purifier, which is installed directly into your ductwork and tackles contaminants like mold and mildew before they have a chance to enter your living space.
There are also air purifiers that will catch airborne contaminants and draw them onto a plate or a surface in your home where they can be cleaned off.
Whole-home air filtration systems are also a lot more powerful than the standard air filter, and definitely worth your consideration. We encourage you to reach out to our team to talk about all your options!
To learn more about air purifiers in Niceville, FL, contact Kool Breeze of Northwest Florida, Inc.