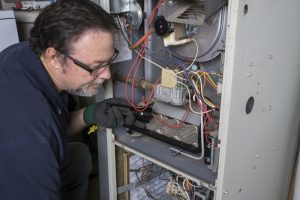 Maybe you aren't thinking about your heating system quite yet, but it's never too early to think about how to save money! Heating maintenance is certainly one way to do just that.
Regardless of our climate, the fact is that even if we only need our heaters for a very brief amount of time this winter, we need them to work as efficiently as possible, right? After a long season (that's not over for several weeks still in our parts) of soaring hot temperatures and energy bills to use our air conditioners, don't you want a bit of a financial break?
You can get that, with a heating tune-up! Read on as we uncover some of the benefits of this service.
Saves Money
As we alluded to above, heating maintenance will help you save money, when you do need the system. During this service, our technicians thoroughly inspect, clean, and adjust any components that need it.
During the inspection, we'll look at any part of your system in need of repair. Getting these small repairs on your schedule now will help you prevent a big emergency later on. While we never experience freezing temperatures, getting stuck on a chilly winter evening with a completely broken down furnace is an uncomfortable and costly problem to have. Why not avoid it altogether?
Improves Comfort
We're "lucky" if it gets cold enough here for a handful of weeks during the winter to rely on our heating systems. Still , you deserve to be comfortable no matter the time of year or temperature outside.
By having your heater routinely tuned-up, you lower the risk of having an unexpected breakdown and help the system perform more powerfully and effectively, therefore improving your comfort.
If you want the performance from your heater that you're paying for without sacrificing comfort, then it's important to schedule routine maintenance.
Protects the System
Perhaps the most important benefit of keeping up with routine HVAC maintenance for your heater is that it actually helps protect the system. By keeping it clean and replacing components when needed, wear and tear won't have such damaging effects.
For instance, one component that needs occasional replacement is the motor bearings in the system. They're lubricated so they don't create friction and cause the motor to overheat. But that lubrication wears down over time. This is just one of the many things we check during your tune-up.
"Does My Heat Pump Need Fall Maintenance If It Had Spring Maintenance?"
Yes! If you're using a heat pump system for your cooling and heating needs, and you had a tune-up this past spring, it still absolutely needs a fall-tune up. This is because heat pumps go through exponentially more work than a standard heater in Florida, and they go through more work than a central air conditioner in pretty much any other part of the country.
These 2-in-1 systems need twice-a-year service. Contact us today for your heat pump tune-up!
For professional heating maintenance in Navarre, FL, contact Kool Breeze of Northwest Florida, Inc.