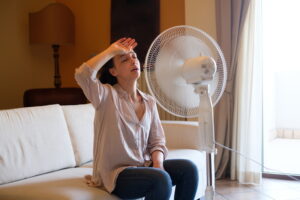 If you've lived in Northwest Florida for even just one summer, then you get that humidity is a major concern when it comes to home comfort. Even the mildest of warm days to us can still feel sweltering when the relative humidity level is high enough. This is because the higher the moisture levels in the air, the easier it is for heat to get trapped in the body. Basically, too much humidity makes you feel hotter than it actually is, because you can't sweat it out!
Humidity creates other problems too. It encourages the development of mold and mildew, as well as other bacteria, and can cause water damage to surfaces. But if you have an air conditioner in your home, you may think that this won't be a problem–that the air conditioner is a natural dehumidifier.
While this is true–that your forced-air cooling system does have dehumidification properties–it needs a little help. Read on to learn more!
Yes, Your Air Conditioner Dehumidifies Your Air… But Not As Much As You Need It Too
Sorry to be the bearer of bad news, but your air conditioner can't be relied upon to completely dehumidify your home.
See, when your air conditioner operates, the cold refrigerant passes through what's called an evaporator coil, which is where the refrigerant evaporates and then draws ambient heat out of the air. This process cools the air, but it also draws moisture from the air along with that heat.
The moisture then condenses along that coil and drips down into a pan underneath. The condensation is pumped away through a drain, and you may hear the sound of water dripping inside your air conditioner cabinet as a result.
A natural byproduct of this process is that the amount of moisture in the air lowers, which technically means your home is behind dehumidified. However, since an air conditioner is not designed specifically with humidity controls, it's not an effective dehumidifier.
Particularly in our sweltering, humid climate, the moisture in the air can easily overwhelm the air conditioner. The extra moisture along the coil can lead to a number of problems like the mold growth we mentioned.
"So, What Do I Do About High Humidity?"
Have you ever considered the installation of a whole-home dehumidifier? Installed and integrated directly into your air conditioner, it provides comprehensive dehumidification, removing excess moisture from the air.
The idea relative humidity level for your household's comfort and health is between 30-50%, and a whole-house dehumidifier will keep it in that range.
Please don't hesitate to ask us about our other indoor air quality products and services! A dehumidifier actually helps your air conditioner work more efficiently, since the cooling system won't have to run as long to compensate for the lower temperature you'll want when your air is stuffy. And other products we have on the market, like air filtration systems and UV air purifiers, can help too!
Kool Breeze of Northwest Florida, Inc. is your trusted local resource for serves on your air conditioning in Navarre, FL, in addition to indoor air quality. Contact us today!