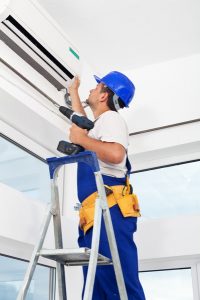 We get this question a lot—some might assume that because a ductless system does not have as many components as a conventional central ac system, namely the air ducts, it doesn't need as much care and service as one either.
Ductless systems provide a number of benefits—efficient cooling and heating throughout your entire home, less indoor air quality problems than a traditional system, and versatility as far as installation goes—they take up far less space than conventional systems.
They are also, however, very large investments, and understandably you want to do everything you can to protect that investment—including scheduling routine ductless air conditioning maintenance in Navarre Beach, FL.
Why Is Ductless Maintenance So Important?
First off, your ductless system's components need cleaning—perhaps most importantly, the condensate drain line and the evaporator coil. The condensate drain line is where water drains from your system as condensation builds on the indoor evaporator coil. Sometimes, condensate drain lines clog, and water might not be able to properly drain from the system, which can create subsequent problems.
A ductless system's indoor unit is different from that of a traditional central AC system in that it's located in a finished space, where a leak can do a considerable amount of damage. Cleaning out the condensate line to remove and prevent clogs is an important part of ductless AC maintenance. Cleaning the evaporator coil to ensure its functionality is just as important.
Don't Forget About Mechanical Problems
Neglecting ductless maintenance can also lead to mechanical problems. Ductless systems are designed to be highly durable, but its inner components can still have just as many issues as those of a traditional system.
For instance, the condenser coil can develop enough dirt and grime to insulate heat, preventing it from operating as it should. Another potential mechanical problem is a worn down or misaligned blower fan assembly, which can create a domino effect of other problems.
Maintenance Helps with System Efficiency
Last but certainly not least, routine ductless system maintenance will help improve and maintain the system's overall efficiency. Any air conditioning system that runs smoothly—meaning it's fan belts operate well, moving parts are lubricated, coils are cleaned—will require less energy to function as it should, meaning you'll pay less on your monthly energy bills.
You'll also be able to more easily avoid emergency repairs, as during maintenance, our technicians will alert you to any smaller repair needs that could use immediate attention. The less you let your system run in disrepair, the better it will run overall.
Another important thing to remember is that maintenance is not a one-and-done deal. To truly reap all the benefits that you can from your ductless cooling and heating system, it's important to schedule this maintenance on a regular basis. Since a ductless system can be used for both cooling and heating (meaning you'll be using it consistently year-round) it's recommended that you have your system inspected twice a year.
Kool Breeze of Northwest Florida, Inc. can handle all of your air conditioning maintenance, repair, and installation needs. Contact us today to schedule an appointment!