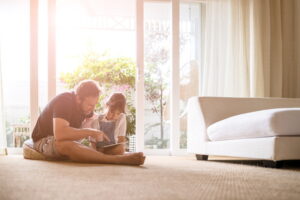 Summer is right around the corner, and if you've lived in Northwest Florida for even just a year, you know that summer extends well into the other seasons. In fact, you could almost say winter is nonexistent here, at least when it comes to temperature.
That said, it's important that you know—the NOAA (National Oceanic Atmospheric Administration) has predicted that summer 2021 is going to be a hot one. One of the top tips you'll hear from many climate experts when a summer like this is approaching is to stay inside. But what if you don't have an effective or efficient air conditioner? You could find yourself spending a lot of money this year, and for not a whole lot of comfort.
Prepping Your AC
So, what does preparing your AC look like when the heat index for summer is expected to be above 100°F? For best performance, we have a few tips!
Ensure that the HVAC air filters are clean. These filters are in place to protect the air conditioner's interior components from dirt and debris that can get inside. In turn, this helps with system efficiency.
Use your ceiling fans. When you use your ceiling fans in combination with your air conditioner, it helps you feel cooler so you can turn the thermostat up a bit. This means your air conditioner doesn't have to run as long and therefore operates more efficiently.
Keep the blinds and curtains closed. This is especially pertinent for south-facing windows. Disallowing the sunshine to heat up your home quickly will enable your cooling system to perform as it should.
Keep an eye on your energy bills. If they're a lot higher than they were this time last year, it could be a sign that something is amiss with your air conditioner and it's causing the system to operate inefficiently.
Schedule Maintenance!
If you haven't already, now is the perfect time to schedule air conditioning maintenance. This is a service provided by our technicians once a year for a standard air conditioner and twice a year for a heat pump system. It allows us to thoroughly inspect, clean, and adjust components that need it. We also alert you to small repair needs so that you can get them on your schedule right away, rather than waiting for a system breakdown because you didn't know you needed a repair.
Other Important Summer Tips
With a summer as hot as this, it's important that you follow some safety tips both inside and outside. While ensuring your air conditioner is in good shape and ready to keep you cool this season, it's also vital that you take care of yourself outdoors by:
Wearing Appropriate Attire: Be sure to wear loose-fitting and lightweight clothing to prevent overheating
Stay Hydrated: Even if you don't feel thirsty, be sure to drink plenty of water. Experts recommend you drink at least 64oz. of water a day even with mild weather.
Know the Symptoms of Heat Disorders: This includes sunburns, heat cramps, heat exhaustion, and heatstroke.
Contact Kool Breeze of Northwest Florida, Inc. today for quality HVAC services, including reliable AC repair in Fort Walton Beach, FL.