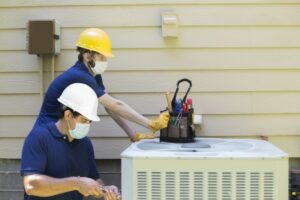 Trying to combat sweltering summer temperatures with an old and inefficient HVAC unit is nearly impossible. Rather than trying to make it through another summer with your outdated unit, it is time to make a change. Investing in a new HVAC unit is the best way to ensure your comfort isn't compromised when heatwaves move into your area.
Some homeowners mistakenly think that installing a new HVAC unit is a job they can handle. In reality, you will need to reach out to professionals that specialize in AC installation in Navarre. Read below to find out more about the problems associated with DIY AC installation. 
Selecting The Wrong HVAC Unit
If you are new to the world of HVAC units, then you might be surprised to learn just how many options are available. An inexperienced homeowner will generally get overwhelmed with the number of HVAC unit options at their disposal. This usually leads to the homeowner making a hasty decision regarding which unit to purchase.
Selecting an HVAC unit that is too small for your home, it will have to constantly run to achieve the temperature setting on your thermostat. If the unit in question is too big, it will lead to issues involving short-cycling. If you want to avoid these problems, then working with an HVAC professional is essential. With this professional assistance, you will have no problem getting the proper sized unit for your home.
Refrigerant Line Insulation Issues
Keeping an HVAC unit running efficiently will require the right amount of refrigerant. Your refrigerant runs from the condenser to the interior portion of your HVAC unit. This refrigerant is delivered to the inside portion of the unit via copper refrigerant lines.
A large section of these lines is exposed to the elements, which is why insulating them is crucial. One of the main DIY installation mistakes made is failing to insulate refrigerant lines. Making this mistake can make your new HVAC unit inefficient.
Leaving refrigerant lines exposed to the elements can also damage them. Rather than making mistakes that will compromise the functionality of your new HVAC unit, you need to let professionals handle the AC installation process.
Mistakes Involving Thermostat Placement
Did you realize that thermostats have to be strategically placed for them to work properly? Failing to put a thermostat in the right location can lead to problems involving temperature inconsistencies. Some inexperienced homeowners put their thermostats in direct sunlight, which is what usually triggers temperature inconsistencies.
These inconsistencies can lead to the internal temperature of your home rising substantially. If you lack thermostat installation experience, then you are bound to make mistakes. This is why paying professionals to install your new HVAC unit and the thermostat is a wise move. The money paid for this professional help will be worth it due to the problems a technician can help you avoid. 
For professional AC service and more, look no further than Kool Breeze of Northwest Florida, Inc. Contact us today!