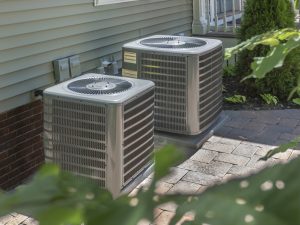 In other parts of the country, it probably seems pretty strange to be talking about air conditioners this time of the year, unless they're talking about winterizing them. But winterizing just isn't a thing here in the Gulf Breeze. Even though our fall and winter seasons are notably and relatively cooler than our summers, it doesn't mean they are cool.
There've been years where homeowners in our area use their air conditioners all the way through December, only to start them back up again in February or March. That's just the nature of being a Florida resident, right? But what doesn't have to be a given is how much you're paying to use that air conditioner.
There are quite a few things you can do to improve your air conditioner's efficiency, all of which will save you money in the long run. Read on to learn more!
Utilize Your Ceiling Fans
Do you have ceiling fans in your home? Use them! They will help to better circulate the cooled air coming from your AC system, taking much of the burden off of that system. It's a great way to cut down on cooling costs.
Use a Programmable Thermostat
Have you ever considered investing in a programmable thermostat? This is a great way to boost your air conditioner's efficiency. Programmable thermostats create cooling programs based around homeowners' personal schedules. This means you'll never have to worry about setting the right temperature, which certainly matters.
Just by raising the temperature on your thermostat by a few degrees while you're not home or while you're sleeping can save you considerably on your cooling costs.
Swap Out Your Air Filter
A clogged up air filter can create a host of problems for your air conditioning system, including reduced efficiency. When your air filter becomes too clogged up, airflow in and out of the system is restricted, making it much harder for it to perform its job.
We recommend changing your air filter every 1-3 months during periods of use. Swapping your air filter out is relatively easy, but if you've never done it before, we encourage you to reach out to our technicians to teach you how.
Improve the State of Your Ductwork
You might be surprised to find that 30% of the cool, conditioned air coming from your air conditioner can escape through breached ductwork. Leaks and tears in your air ducts can significantly lower the energy efficiency of the system, causing your bills to skyrocket.
Be sure to have a professional HVAC technician inspect your ductwork to see that they're properly sealed and don't need any repair or replacement.
Schedule Annual Maintenance!
Annual maintenance (or biannual, if you're using a heat pump system) is the best way to make sure that your system is performing as efficiently and effectively as possible all year long. Plus, it helps your air conditioner last as long as possible.
During your maintenance session, our technicians will thoroughly inspect your system to locate and repair minor issues before they grow into bigger emergencies, clean the system inside and out, and alert you to any potential repair needs your system might have. This service is typically recommended in the spring, but it's less important the time of the year you have it done than it is you have it done on a routine basis.
For more great tips about AC efficiency and to learn how to prevent air conditioning repair in Gulf Breeze, FL, contact Kool Breeze of Northwest Florida, Inc. today!