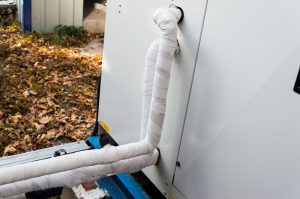 First off, you might be wondering what R-22 is. It's refrigerant—the substance needed for your central air conditioner or heat pump to function at all. Perhaps you have a basic understanding of how refrigerant works, and you might have even had someone tell you that refrigerant needs to be refilled (called recharged in the HVAC industry) every once in a while.
First off, that's not true—if your system is losing refrigerant, it means there is a leak in the line that has to be repaired before it can be recharged. In the ideal scenario, your AC system has enough refrigerant upon installation to last throughout its entire lifespan.
That brings us back to R-22. If your system is a decade old or older, chances are that it uses this type of refrigerant. And unfortunately, R-22 is being phased out. The reason is due to the harmful effects it has on the environment, so it's for a good cause! But you may be in for an unpleasant surprise should your older AC need refrigerant.
"I Can Still Get R-22 Though, Right?"
Well, for now. More on that in a minute.
If you're replacing your current air conditioner with a new one, the upgraded system will not have R-22 in it. Instead, it will have the newer, safer version of refrigerant. The name doesn't matter so long as you understand that R-22 will no longer be produced or imported to the United States as of January 2020—just a few months away!
If your aging air conditioner experiences a refrigerant leak, its refrigerant cannot be replaced with the newer version. There is an option that some homeowners are taking advantage of, which is a drop-in solution to R-22, meaning that yes, you can still get refrigerant for your older system for now. However, there are disadvantages to this. When you introduce a refrigerant to your air conditioner that was not designed for it, you hurt the system's efficiency—in fact, you can lose as much as 12-15% of that efficiency.
This is awful for system functionality, since it means your air conditioning system has to work harder to do its job. This wears down on the AC system's components and will cause your cooling bills to rise. If you already have an aging system, this can only exacerbate the problem.
"So, What's the Best Way to Prep for This Phaseout?"
Honestly, by upgrading your air conditioner. To truly enjoy all the benefits that an efficient modern air conditioner can bring, the best thing you can do if you have an aging system still utilizing R-22 in it, is replace it.
Today's air conditioners are designed with much higher SEER (Seasonal Energy Efficiency Ratio) ratings than those of the past, so even with the refrigerant problem aside, you'll benefit from the increased efficiency.
On the subject of AC replacements—you don't have to stick with a traditional central system if that's what you've been using all these years. There are a number of options available on the market today. You might choose to get a heat pump—this system functions as a central air conditioning system except that it has a reversing valve so you can also use it for heating during our brief but chilly winters.
In fact, heat pumps are ideal in climates that experience hot summers and mild winters, so they're perfect for around here! No matter what type of air conditioner you choose to go with, buying a new one now means you won't have to deal with the R-22 issue at all.
To upgrade your air conditioning in Gulf Breeze, FL, contact Kool Breeze of Northwest Florida, Inc.