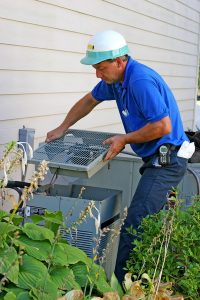 It's that time of year again—the time where we turn off our heaters in favor of our cooling systems. In fact, depending on which of our service areas you're in, you likely are already using your AC. But, did you have it maintained before you started using it? Don't worry—if your answer is "no," it's not too late!
Maintenance is a preventive service for your HVAC systems that help them last longer, perform better, and resist big emergency repair needs that could cost you an arm and a leg. Homeowners are sometimes resistant to such a service, feeling like it's not "needed." But when something goes wrong that could have been prevented, you'll see just how valuable maintenance is.
For some homeowners, it helps to understand exactly what goes on during maintenance. Our professionals thoroughly clean the system for optimal performance, make adjustments to any loose components, and make recommendations for repairs. We do all this while carefully inspecting your air conditioner, and this is the important part! Read on to learn more about this step.
What Happens During an AC Inspection
We often get asked about the "inspection" part of maintenance. It might make sense that an air conditioner requires a "tune-up" before summer arrives in earnest. But what is so important about the inspection part?
Air conditioners have intricate components, including refrigerant, that could unintentionally be damaged if not in the right hands. There's a pretty long list of what technicians look for when conducting an inspection, too. Below are just some of the things we look for:
Loose or Corroded Electrical Connections: Many of the common problems in AC systems comes back to the electrical system. Chemicals and moisture in the air can cause electrical connections and wiring to corrode, which eventually causes multiple components to fail, and the AC to shut down. Our pros look closed for this, as well as any wiring that may be coming loose.
Motors in Need of Lubrication: Our technicians take a close look at the motors in an air conditioner that operate the fans and the compressor. Strain on the motors can cause overload and burnout. If motors are dusty or losing lubrication, technicians will lubricate them, or recommend replacing them entirely.
Refrigerant Levels: There's still a fairly common misconception out there that refrigerant is something that "runs out" like gasoline from a car. The truth is, if you're losing refrigerant it means your air conditioner has a refrigerant leak. The refrigerant must be refilled—what we call recharged—and the source of the leak must be repaired to restore full functionality to your cooling system.
Blower Components: The blower is what actually moves air through the coils of your air conditioner and into the ductwork. Dirty or failing blowers cut down on airflow and therefore the efficiency of your air conditioner.
The Thermostat: Sometimes, a problem with an air conditioner isn't actually a problem with the air conditioner at all! Rather, it's a miscalibrated or damaged thermostat sending the wrong signals to the air conditioner. This can be an efficiency and energy drain, and catching it early on can prevent you from facing some pretty hefty energy bills.
When you're ready to schedule your air conditioner maintenance, please don't hesitate to contact our team!
For professional service on your HVAC in Valparaiso, FL, contact Kool Breeze of Northwest Florida, Inc.