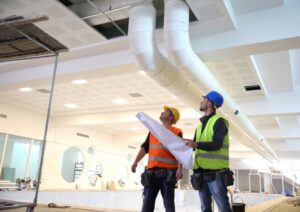 It's springtime! Maintenance of HVAC systems is a favorite topic of ours during the spring and fall. While we often talk about home heating and air conditioning systems, it's absolutely critical not to forget commercial HVAC maintenance. There are a lot more people depending on the heating and cooling systems in a commercial building than in a home.
What is actually necessary in terms of maintenance for commercial HVAC systems? When and how often do they need service? Are there any special considerations to keep in mind? We'll tell you all this and more.
Working All Year Round
It's strongly recommended—and required, if you want to keep your warranty agreement valid—to have professional maintenance done on any air conditioning system once a year. The same is true of any heating system. But your commercial HVAC system is both! (And sometimes more, if you have an air filtration or purification system.) While some components may see very heavy use only during a specific season, other components such as fans and motors, work hard all year round. This means that thorough maintenance by a qualified technician needs to be done twice a year.
Seasonal Use
During the hottest part of the summer and the coldest part of the winter, a commercial HVAC system is in high demand. You really don't want to encounter a major problem when you need your heating or cooling the most!
For that reason, we recommend that commercial HVAC maintenance in Pensacola, FL be done during the seasons of lower use: the spring and the fall. That way, your system will be in tip-top shape just in time for the seasons it's needed most urgently. However, it's more important to have it done twice a year than to have it done during shoulder season.
Special Considerations
A commercial HVAC technician can make a thorough assessment of your system and let you know whether there is anything else that you should be aware of. For example, if you have an aging HVAC system and you're trying to prolong its life, additional maintenance might be recommended.
What Professional Maintenance Provides
When you have consistent maintenance done twice a year on your commercial HVAC system, there are many benefits. Keeping your system under warranty is one of them. Others include reducing repair needs, decreasing the likelihood of inconvenient breakdowns, and extending the life expectancy of the system.
It also raises the efficiency of the system, which is gradually reduced by wear and tear during months of heavy use. And your technician may be able to help you assess your energy use and make choices about how you use your HVAC system that will be more energy-efficient and more cost-effective.
We would be honored to partner with you in the care of your commercial HVAC system, so you can rely on a consistent team who will always be knowledgeable about your building and aware of your specific needs. From installation to maintenance, repair, and replacement, we'll provide your business with the first-class service it deserves.

For top-notch commercial HVAC maintenance, look no further than Kool Breeze of Northwest Florida, Inc. Contact us today!