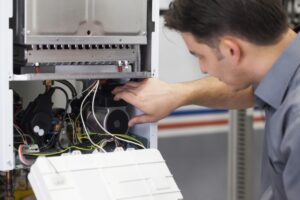 In our area, the air conditioners get a lot more time on the job than the heaters do. However, it is critical to have heaters that work well during the winter, because overnight lows that are usually in the forties are very unpleasant without heat. Because of our weather, the calls we get about heating trouble can be a little different from those fielded by heating professionals in the snowy, northern part of the US.
Here's some information about the heating concerns we have to address most often in Florida and what they might look like if they happen to you.
Blower Motor
Many homeowners have both an air conditioning unit and a heating unit. They each have separate components to do their own separate jobs. However, they do use the same method to deliver the air they have brought to your desired temperature. This means that the ductwork, vents, and blower motor are used all year round, even while your heater has a long summer rest. 
Ductwork can indeed develop problems, especially over many years. But the risk of a problem always increases with the complexity of a system and the number of parts—especially moving parts—it has. This means that the blower motor is at the highest risk of breakdown. If a blower motor is struggling, you might hear noises like a screech or a squeak or notice that there's not much air moving out of your vents. If it breaks down completely, there won't be any air coming from your vents. 
User Error
It's a simple fact that spending more time doing something makes it easier and less likely that you will make a mistake the next time you try to do it. While practice doesn't necessarily make perfect, it definitely helps. And in Florida, homeowners simply don't get a lot of practice using their heating systems. While we're always happy to help with any heating concerns, you'll probably be happier if you don't need to call us at all. So if you encounter a problem, here are some things to check before deciding you need repairs. 
Power: Check that the power is on to your heater, that the circuit breaker hasn't been tripped, and that it is set to "heat" and hasn't been accidentally turned off.
Fan: Make sure the fan is switched to "auto" and not "on" or "off."
Thermostat: Look at the settings to be sure it's set higher than the ambient temperature and that it hasn't been left on a "vacation" setting or some other power-saving, lower-temperature mode.
Wait: Give the heater a few minutes to start up once you've checked all these other things. Then, if you're still not getting the heat you need, it's time for heating repair in Pensacola Beach.
Heating Element
In some parts of the country, most heaters are gas-burning. In Florida, most heaters are electric which is why we get so many calls that turn out to be a broken heating element. Because most heaters have more than one heating element, a broken one will likely result in reduced heat, but not no heat at all. A technician can replace the element, and your heater can keep functioning and keeping you cozy on those chilly winter nights.

For professional furnace maintenance and repair, look no further than Kool Breeze of Northwest Florida, Inc. Contact us today!