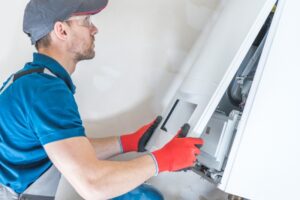 Everyone knows that the folks who live in the frozen north use their heaters more than half the year. Of course, they need regular maintenance when they see that much use!
But even in Florida, with many fewer days that require heating, it is important to make sure your heater is serviced regularly. In fact, this is the perfect time of year to plan your heating maintenance in Navarre, FL. There are several reasons why.

Safety
Just as the safety of your family and home is of the utmost importance to you, the safety of our customers is of the utmost importance to us. When a heater is not regularly maintained, you have no way of knowing whether there is a carbon monoxide leak. This is the top priority of our technicians, who can test for leaks and make sure your heater isn't making your air unsafe to breathe.
Ease of Scheduling
If you plan ahead and schedule your maintenance now, there will be plenty of time to fit it into your calendar before you need to fire up your heater. Then, if more extensive repairs are needed or an unusual part must be ordered, there will still be time to get that done before winter hits.
Reliability
The last thing you want on the first truly chilly night of the winter is to discover that your heater won't start up. When you have maintenance done in the fall, you can be sure that your heat will turn on when you need it.
Efficiency
A heater can work more efficiently when it is maintained regularly. This means that you won't be wasting money on energy you didn't need to use. If you can keep your home just as warm with less fuel, and do the planet a small favor at the same time, everyone benefits.
Avoiding Emergencies
When you have your heater maintained in the fall, our technician will catch any small problems before they get worse. If you run your heater without having it maintained, you're increasing the likelihood of a big problem cropping up suddenly. If you're particularly unlucky, this could mean waiting for an emergency repair in January while your home gets chillier and chillier.
Avoiding Replacement
A regularly-maintained heater will simply live longer than one that is neglected. This can mean many more years of cozy comfort throughout the winters, which certainly sounds better than the cost and inconvenience of purchasing and installing a new heater in the near future. 
Meeting Warranty Requirements
If your heater is still under warranty, that agreement likely requires annual maintenance. It's great to keep an appliance under warranty for as long as possible, to decrease costs if repairs or replacement are required. 
Schedule your fall heater maintenance now, and rest easy in the knowledge that your home will be warm when winter hits.

For professional heating maintenance, look no further than Kool Breeze of Northwest Florida, Inc. Contact us today!