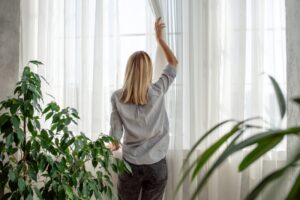 Indoor air quality is an important consideration for a lot of homeowners. Whether you work from home or want to keep pollen out during allergy season, there's a good reason to invest in air purification. That said, not all HVAC systems are made for this purpose.
While the name fits, air filters aren't designed to purify the air coming through the vents. They're good for maintaining clean airflow, but not in the way you may think. So what role do they actually play? More importantly, what's the best HVAC system for cleaner indoor air?
Air filters protect your HVAC system
The difference between an air filter and a purifier comes down to the type of contaminants they remove. Air filters keep dust, dirt, and debris away from your HVAC system. When these contaminants build up in your AC or furnace, they can damage the internal components. 
By trapping them, air filters keep your system running efficiently. They can even protect it from carpet fibers, lint, and mold spores. While this doesn't hurt air quality, filters can only catch large particles.
The most efficient air filters can remove particles as small as tobacco smoke. Even then, you're more likely to find them in hospitals than residential homes. The best system for your house is almost always an air purifier.
Whole-house air purifiers improve air quality
Air purifiers are the best investment you can make to improve indoor air quality. They're designed to remove the contaminants a standard air filter can't. Purifiers trap the smallest airborne particles at a higher rate than even the best filters.
Many of them use more sophisticated methods to take air quality to the next level. UV light and ionic air purifiers neutralize microbial irritants like bacteria and pollen. By targeting these irritants, they don't just make the air cleaner, but healthier too.
Benefits of installing a whole-house air purifier
Whole-house air purifiers are the most efficient HVAC system for indoor air quality by far. Unlike portable units, they maintain air quality throughout your home. This regulates more space without creating more work and leaves less room for contaminants to settle.
Mold spores, for example, often build up on the coils of an AC system. Even if a great filter traps them, they might collect in spaces that aren't often used. With a whole-house air purifier, you don't have to worry about the air in crawl spaces or nooks. 
A whole-house system is also more cost-efficient than a portable unit. It's designed to purify more space at the same time, doing the job of multiple units. By sharing the workload with your other HVAC systems, you won't have to replace air filters as often either.
Improving the indoor air quality creates a comfortable, healthier home you'll love spending time in. With a whole-house air purifier, you get the benefit of convenience too! 

For professional and reliable indoor air quality services in Navarre, FL, and beyond, contact Kool Breeze of Northwest Florida, Inc. today!