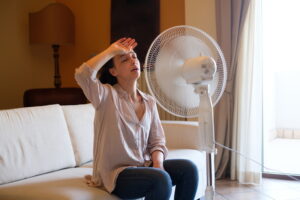 Given where we live, the question of extreme heat and how it plays a role in our air conditioning use is understandable. An air conditioner can only be so powerful, right?
Well here's the good news–your air conditioner is literally designed to handle high heat. And depending on how efficient of a cooling system you have, yours might not ever struggle.
The not-so-great news is that the average air conditioner cannot cool effectively beyond about a 20° range to what the temperature is outside. This means if the temperature outside is in the triple digits and you're setting your thermostat to 72°F, you're probably going to be disappointed–and your air conditioner is just going to keep running as it tries to reach the temperature you set on the thermostat, which is really inefficient.
Aside from this temperature differential, there are other problems that high heat can cause. We'll explore them below, but first we want to share our #1 tip to ensure that your air conditioner can indeed face this next summer of high heat!
Our #1 Tip for Your Air Conditioner
Schedule Maintenance!
Professional air conditioning maintenance is a service you should have done at least once a year–twice annually if you have a heat pump system. Maintenance allows our technicians to comprehensively inspect, clean, and adjust components that need it.
We also alert you to small wear-and-tear repair needs so you can get them managed before they turn into big emergencies (such as a complete air conditioner breakdown). This helps your system work as efficiently and effectively as it's meant to, for as long as it's meant to, no matter how high the temps get outside.
The Problem with High Heat
Yes, your air conditioner is literally designed with high heat in mind. But when there are too many consecutive days of that high heat, there are certain problems you should keep an eye out for. They include:
Failed Capacitors: Your air conditioner has two types of electronic capacitors–the start and run capacitor. The first signals your AC to start up, while the second keeps it running. The intense heat can cause these capacitors to fail sooner than they would have otherwise–which is why diligent maintenance is so important!
Overheated Blower Motor: Just like with the capacitors, the extended use of your air conditioner during times of high heat can cause your blower motor to overheat and fail. This means that you may still feel some level of cool air in your home, but it certainly won't be coming into your living space with the power it's meant to.
Clogged Air Filter: There's a common misconception that the air filter within your HVAC systems is in place to protect your indoor air quality. While this air filter doesn't hurt your indoor air quality, its intended purpose is to protect the system itself from debris.
That said, because of how long your AC runs in high heat, it's taking it a lot more air, and therefore a lot more debris. Depending on the type of air filter you have and the level of dust and other contaminants in your home, you should be changing this air filter every 1-3 months. When temps are in the triple-digits, or even above 90°F for about a week, it's a good idea to check that air filter more often.
Contact Kool Breeze of Northwest Florida, Inc. for professional air conditioning service in Navarre, FL and beyond!