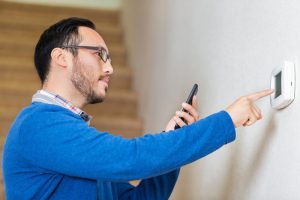 While many homeowners throughout the country are breathing a sigh of relief as temperatures cool and they use their cooling systems less and less, we aren't so fortunate. Not only do we have the heat to contend with, but the humidity as well, and it's not going away any time soon.
We don't say this to be depressing, but rather to highlight the fact that you are still going to be using your air conditioner for some time, and we want to help you use it as efficiently as possible. After all, if you can save money on your energy costs, wouldn't you?
Well we have some good news—there is an easy way to do so, and it has to do with your thermostat! Read on to learn more about this, and a few other ways you can improve air conditioner efficiency to save energy and money.