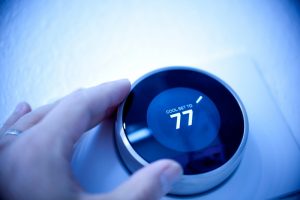 Generally speaking, most homeowners know that they need to upgrade their home comfort systems every 10 years or so. Plenty of folks are on top of it when it comes to upgrading their heating and cooling systems, but there's a component of both of these systems that is often forgotten about—the thermostat.
Your HVAC thermostat is responsible for controlling both of these systems—it doesn't matter how powerful, efficient, or expensive your heating or cooling system is, if it doesn't have a dependable thermostat to operate it with. If you're one of the many homeowners who don't know when they're in need of Navarre, FL thermostat services, namely a thermostat upgrade, no need to worry—that's what we're here for!
Does Your Thermostat Need to Be Replaced?
Typically, it's a good idea to replace your thermostat as often as you replace your home comfort system. This, of course, depends on a number of factors, but generally speaking, once your air conditioner or heater has aged to the point that it needs to be replaced, there will be a better, more efficient thermostat on the market, too.
When It's Time to Upgrade Your Thermostat
When is the best time to upgrade your thermostat, and why should you? Well, as to the why, you should upgrade your thermostat for pretty much the same reason you'd upgrade any other system within your home. As it ages and wears out, it will begin to experience problems, and not work as effectively or efficiently as it should.
As the efficiency of your thermostat declines, then you'll be less and less able to accurately control the temperature levels in the room. There's a temperature range where the thermostat should activate, but doesn't—this is called the "dead zone." This will gradually grow wider and wider the older your thermostat gets.
Not only do thermostat problems negatively affect your comfort levels, but they end up costing you more to operate your heating and cooling systems on a monthly basis. Upgrading an aging or malfunctioning thermostat is the best way to ensure that any lost efficiency from an outdated version.
Your Thermostat Options
Another reason to consider a thermostat upgrade is that it enables you to take advantage of some of the more recent advances in thermostat technology that might have come on the market just in the last decade. Wireless thermostats, for instance, have dramatically extended the effective range of your thermostat by using wireless satellite units that can be carried from room to room.
Going one step further, smart thermostats "learn" from your home comfort habits over the first few weeks, and from there can adjust your HVAC systems the way you like it without you actually having to touch the system at all. This helps you save energy, and therefore money, too. Lastly, your home will be more comfortable as you'll have more control over the temperature.
Kool Breeze of Northwest Florida, Inc. is the team to turn to for all of your HVAC needs! Contact us today.