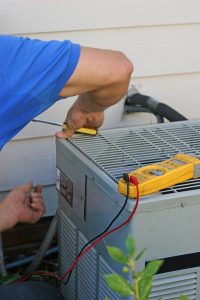 With temperatures never really cooling down in our part of the country, the time to start thinking about how to best take care of your air conditioner this coming summer is now. Caring for it this early means it will be well equipped to get through the rest of spring, and the sweltering months of summer, with ease. We're talking about tuning up your cooling system to help fend off the need for emergency air conditioning repair Fort Walton Beach, FL.
There are, of course, a few maintenance tasks that you can and should be doing on your own. For instance, your air filter needs to be changed every 1-3 months during periods of use, depending on the level of contaminants in your home. This helps protect both your cooling and heating systems. You should also ensure that both the outdoor unit and indoor vents of your AC are unobstructed.
Help Your AC Perform Well and Prevent Repairs
Not all repairs can be prevented. Components will be subjected to natural wear and tear throughout the years. But maintenance will definitely help fend off sudden and costly repair needs. Additionally, it will help your air conditioner perform better! As to when the best time to schedule a maintenance session would be, the time is now.
More important than when you schedule your maintenance session (also called an AC tune-up) is how often you schedule it. Unless you have a heat pump system, your air conditioning maintenance should be done once a year. And if you do have a year-round heat pump system, this should be upped to twice a year. Skipping a tune-up can lead to operational problems down the line. Keep reading to learn more about the benefits of routinely scheduled AC tune-ups.
The Air Conditioner Will Operate More Reliably. This is arguably the biggest benefit of annual AC maintenance. Your cooling system will be less likely to suffer from major operational failures, such as a complete breakdown, over the warmer months when you need the system the most. During the inspection part of your maintenance session, our professionals will find areas where natural wear and tear on the system can lead to these operational problems, and we'll make any necessary adjustments to further remove problems.
Your System Will Work More Efficiently: The build-up of wear and tear on your cooling system creates more strain on its internal components, particularly the blower motor. This causes higher energy bills as your cooling system attempts to overcome the extra stress. If your system has regular tune-ups, though, it should retain about 95% of its efficiency rating through its entire service life.
Your System Will Last Longer: Speaking of system service life, most air conditioning systems should last between 10-15 years. This is of course dependent on the manufacturer and the type of cooling system you own, as well as—you guessed it—whether or not you stay on top of your maintenance appointments!
Kool Breeze of Northwest Florida, Inc. is your trusted resource for AC tune-ups and any other HVAC services you may need. Contact us today!