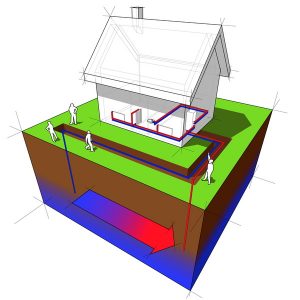 Are you having a new home constructed in the coming year? This is a great investment, and you have many considerations to make in the process of home building—your Gulf Breeze, FL air conditioning options being at the top of the list. This may seem like something that can wait until the end of the process, but if you've ever considered geothermal cooling and heating for your home, then its best to look at the benefits before your home is constructed, as this system is installed underground.
Thanks to advancements in technology, installing a geothermal system, also referred to as a geothermal heat pump, is easier than ever before, and it can certainly be retrofitted for an existing home—so if you've come across this and are already in a home, please reach out to us! There are a number of advantages to using a geothermal system, which we've covered below.
You'll Save Energy
The U.S. Department of Energy states that a geothermal heat pump works three to six times more efficiently than a conventional heat pump system. This is because of the stable temperature of the earth from which the system accesses for heat exchange.
The System Will Last a Long Time
The cost to install a geothermal cooling and heating system is more than that of a conventional heat pump, or even a central air conditioner, in most cases. However, one of the biggest rewards of a geothermal cooling system is how long it will last after installation.
The interior components can be expected to last for 20+ years when well maintained. The underground loops often last for over 50 years! That's decades of energy savings, and subsequent monetary savings, at your disposal.
Geothermal Systems are Environmentally Friendly
Geothermal cooling and heating systems create fewer harmful greenhouse gas emissions than standard heat pumps, air conditioners, and furnaces.
Geothermal Systems are Very Reliable
Standard heat pumps, which use the outside air as a source for heat exchange, can struggle with extreme temperatures. This is not the case with geothermal systems, which rely on a steadier source temperature balance. As a result, geothermal systems are more reliable.
Maintaining Your Geothermal System
Geothermal heat pumps have far fewer moving parts than a conventional air conditioning or heating system. This means they need less maintenance, but it does not mean that you should skip maintenance all together.
In fact, as mild as our winters are, any type of heat pump system should be checked twice—once before summer and once before temperatures drop in the winter. While we don't suffer from nearly as cold temperatures as other parts of the country, you want to ensure that you have sufficient in your home for those chilly nights that you do need it!
There are a few things in particular that our technicians check for during your geothermal maintenance appointment. For instance, we'll look over the manifold and the heat exchanger, and ensure that you aren't experiencing any refrigerant leaks. If you have an open loop configuration, we may even give the loops an acid flush on occasion.
We're happy to answer any questions you may have about geothermal cooling!
To schedule your air conditioning installation or any other HVAC services, reach out to
Kool Breeze of Northwest Florida, Inc. today!