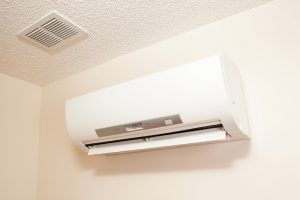 While for most parts of the country, springtime is the best time to arrange for air conditioning maintenance, around here we typically find that wintertime fits the bill instead. This is because our temperatures don't really begin to cool down enough to stop using our cooling systems until winter. If you are considering a new cooling system—and perhaps one that can serve as a functional and efficient heater as well—then you'd do well to consider a Navarre, FL ductless system installation.
Ductless systems aren't right for every home, but they're a great choice for many—especially those residences that were built before the advent of air conditioning and therefore cannot accommodate the installation of bulky ductwork. Ductless air conditioning systems are an alternative solution that can solve a number of problems that centralized systems cannot, particularly having efficient cooling and heating all in one system. Keep reading to learn more!
Ductless = No Ducts!
This ductless system fact is obvious, but why does being ductless matter? Well, without having to handle the logistics of ductwork, ductless systems can provide comprehensive cooling power to your home, even if you didn't previously have the ability to enjoy central air.
This is especially beneficial for larger homes, homes with a lot of family members, and even some commercial spaces such as nursing homes or hotels—reason being air handlers can be put in each individual room allowing for individual control over the temperature.
Ductless systems also provide better indoor air quality than ducted systems. Traditional central air conditioners present the possibility of airborne contaminants being dispersed throughout your home from your room vents. Ductless systems do not have this problem.
Cooling Precision
When we talk about indoor air quality, we typically mean the actual healthful quality of your air. But control over your cooling needs also contributes to your air quality. As we mentioned above, the ductless system is comprised of individual air handlers, meaning you can control one room from the next.
For instance, let's say someone is cooking in the kitchen. They'd probably like the temperature of the kitchen to be pretty low, whereas someone in a bedroom in another part of the house doesn't want to freeze. A ductless system helps keep everyone happy!
Lower Utility Bills
Individualized air handlers are a gift that just keeps giving. Household occupants do not need to run the air in parts of the home that are not being used in the day, such as bedrooms or upstairs parts of the home. As a result, your monthly cooling bills will be lower and the system won't suffer as much wear and tear as a traditional central system would.
Plus, we have to mention the heating benefit again—living where we do, it's rare that you need to run a furnace or some other significant piece of equipment for very long, but you do need heating on occasion. Many homeowners turn to portable electric heaters for this reason, but this is costly! Ductless systems are actually ideal for homes in our climate, as they run on heat pump technology, allowing you to switch them from cooling mode to heating mode easily, and just switch them back when you need cooler air again.
For reliable HVAC services throughout Navarre and beyond, contact Kool Breeze of Northwest Florida, Inc. today!