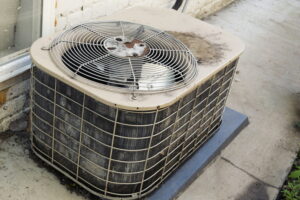 While our friends and family in the midwest and northeast get ready for chillier days by scheduling heating maintenance and making sure their homes are well insulated, we're still using our air conditioners on a pretty consistent basis.
That's not to say you shouldn't invest in heating maintenance too–you should–or that you won't benefit from proper insulation–you will–but the fact is we have to give extra attention to our cooling systems.
That said, did you notice this past summer and fall that your air conditioner was struggling a bit? Maybe it's just not keeping you as cool as it used to, or it's running in short bursts instead of regular cooling cycles (this is called short-cycling). Read on to learn about some signs that it may be time for you to upgrade to a new air conditioner!
When It's Time to Replace Your Old AC
If your air conditioner is on its last leg, the sooner you replace it the better off your budget and your peace of mind will be. However, it can be hard for the average owner to know when that time has come. What signs should you look out for, anyway?
Sign #1: Your Air Conditioner Is Old
Did you know that the average air conditioner is designed to last 10-15 years? That is if it's well-maintained! During AC maintenance, our staff thoroughly inspects, cleans, and adjust components that need it, alerting you to small repair needs in the meantime.
Skipping maintenance or ignoring the smaller repair issues your system has will definitely have a negative impact, and shorten that lifespan. But if your air conditioner is about a decade old and has a lot of problems, it's probably time for an upgrade.
Sign #2: The Air Coming From It Is Lukewarm
Your system ultimately only has one job–to keep your living space cool. So if your air conditioner is pushing out lukewarm air, it's obvious something is amiss. Now, this can be a repairable problem. Lukewarm air can be the result of ductwork damage, which would need to be repaired regardless of whether you upgrade your air conditioner now or later.
But if it's a problem that keeps coming up no matter how many different repairs you have done on an aging system, it's more than likely a sign that the system needs to be replaced by now.
Sign #3: Your System Uses R-22 Refrigerant
This is a type of refrigerant that has been phased out. The reason for this is how harmful it is to the environment. If your system still uses this type of refrigerant, it's definitely a sign that it's old, in the first place. Manufacturing of this refrigerant type isn't even legal anymore.
The other problem with R-22 refrigerant is that if your system does still use it, and has a refrigerant leak or some other problem that requires a refrigerant recharge, you can't mix-and-match refrigerant types. This means you'll have to replace the system anyway in order to regain system efficiency.
Chances are you're not sure what type of refrigerant your system uses. That's okay! Give us a call and we can let you know.
For professional service on your air conditioning in Niceville, FL, contact Kool Breeze of Northwest Florida, Inc.