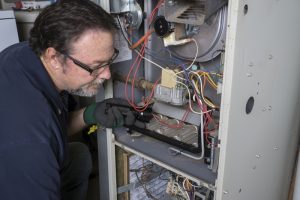 We get it, your air conditioner is the main HVAC system of choice for pretty much 90% of the year. When you use your heater—if you use your heater—it's for a very brief amount of time, maybe even only at night.
But, when you do use it, don't you want to make sure you're doing so as efficiently as possible? The only way to make sure that you do is with heating maintenance. This probably seems like a weird time of the year to start thinking about it—after all, don't our summers last until January?
But it's better to have a prepared heater than to be without one, if met with a surprise cool snap this fall.
Count on Safe Operation
This is the most important consideration to make when it comes to heating system maintenance. The last thing you need is to worry that your heater might be a hazard to actually use. This is mostly a concern when it comes to gas-powered systems, which are typically the most common type found in homes today.
During your heating tune-up, our expert technicians fully inspect your system, checking for any problem areas—this might include a cracked heat exchanger or a loose gas line. The peace of mind you get after a maintenance session can be worth it all on its own.
Prevent Huge Repair Needs
When temperatures drop, no matter how briefly, you don't want to scramble to call for repairs after suddenly finding out your furnace or heating system isn't working. Fortunately, we do provide emergency 24-hour services, but we'd like to help you avoid these problems to begin with, by ensuring you have a reliable and fully functional heating system.
A maintenance tune-up gives your heater the best chance of working through the winter without any interruption in service. Additionally, maintenance stops smaller repair issues and inconveniences that can add up in both money and time wasted. In fact, by keeping up on your regular maintenance sessions, you can help prevent 85% of the repairs a heater may ever need over its service life.
Extend the Life of Your Heater
Speaking of that service life—you want your furnace or heating system to last as long as possible before you need to replace it, right? After all, purchasing HVAC equipment isn't cheap, especially when you consider how short of a time we use these particular systems. Maintenance helps your heater achieve the longest possible efficient service life!
Keep Those Heating Costs Low
A heater that skips routine maintenance will wear down faster than one with regular tune-ups. With problems like extra friction on the motors due to loss of lubrication or burners struggling to produce enough heat because they're dirty, your heating system will drain more power in order to operate, causing an unnecessary increase in your heating bills—whereas maintenance can help your heater retain 95% of its energy efficiency rating through most of its lifetime.
For quality HVAC services in Navarre, FL, contact Kool Breeze of Northwest Florida, Inc. today!